Frequently Asked Questions
What is OUSGG?
OUSGG stands for the Oxford University Scout and Guide Group. We're affliliated to SSAGO, the Student Scout and Guide Organisation, which has members and clubs at most universities in the UK. SSAGO has links with both the Scout and Guide Associations in the UK. We have members from the University of Oxford and Oxford Brookes.
What is OUSGG really?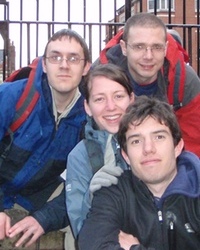 We are a group of students who meet every Monday evening to do... well, whatever we want really. If there is something we want to do, then we go ahead and do it. We do have to follow certain rules, but these are mostly boring and due to insurance.
We don't wear uniforms, do badgework or have leaders. Some of the things we do do though include:
Bonfire and Fireworks
High Rope Courses
Kayaking
Pancake Parties
Pub Quizzes
Stop Frame Photography
Theatre Trips
Wide Games
Wine Tasting
We also have trips during the vacations, and occasionally weekend trips during term as well.
Do I have to be a member of the University of Oxford to come along?
We welcome members from both the University of Oxford and Oxford Brookes. Really, we should be called the Oxford Universities Scout & Guide Group, but it doesn't roll off the tongue!
What's this N'n'N I keep hearing about?
N'n'N is the name given to our Thursday lunchtime meetings, usually held in someones room. We provide drinks and biscuits, everyone brings their own sandwiches, and we have a nice informal lunch as a group.
"Scout and Guide Group" - doesn't that mean you have to help run meetings for little Scouts?
No! Joining OUSGG is not about becoming a Scout or Guide leader, or helping to run meetings for Scout/Guide groups. OUSGG is all about having a good time and making new friends.
On the other hand, if you do want to become more involved in local Scouting and Guiding, OUSGG has links with the local troops/companies and we can put you in touch. Several current members are leaders at local troops/companies.
Do I have to be a Scout or Guide?
Nope. A lot of our members are (or were) members of Scouts or Guides, but we also have several members who have no link whatsoever to Scouting or Guiding.
And you don't become a Scout or a Guide when you join either, so you're not going to have to take the Promise or wear a uniform.