About OUSGG
OUSGG - the Oxford University Scout and Guide Group - is a society for people interested in maintaining or establishing an association with the Scouting and/or Guiding Movements. It was founded in 1919, making it the oldest University Scout and Guide Group in the country, and the second oldest in the world.
It is an active society with a diverse programme during both term-time and vacations. We don't wear uniforms, do badgework or have leaders. We do however do pretty much any other activity you can think of! Recently, this has included:
Boating (in France)
Fireworks
High Ropes Courses
Mountaineering
Pub Quizzes
Punting
Safari Supper
Theatre Trips
Walking
Wide Games
Wine Tasting
We're affliliated to SSAGO, the Student Scout and Guide Organisation, which has members and clubs at most universities in the UK.
Erik the Panda
Erik the Panda is our society mascot. He joined the group in 1974, and has been with us ever since. He regularly comes along to meetings and on our trips.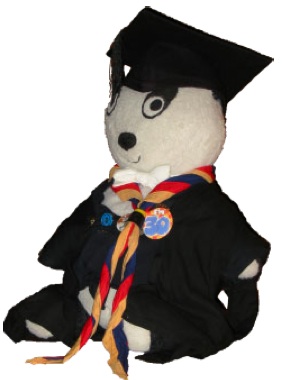 Erik the Panda